I took the day off from reporting yesterday, so these numbers are going to show a significant jump.
World:
US:
This week, Covid-19 passed heart disease and cancer as the leading cause of death per day in the United States. In this graph made by Dr. Maria Danilychev using data from Worldometer and the CDC, you can see that Covid-19 overtook heart disease sometime on Monday or Tuesday.
Forsyth County in NC had its third death yesterday.
The Trump administration is pushing to reopen much of the country next month, raising concerns among health experts and economists of a possible covid-19 resurgence if Americans return to their normal lives before the virus is truly stamped out.
Behind closed doors, President Trump — concerned with the sagging economy — has sought a strategy for resuming business activity by May 1, according to people familiar with the discussions.
In phone calls with outside advisers, Trump has even floated trying to reopen much of the country before the end of this month, when the current federal recommendations to avoid social gatherings and work from home expire, the people said. Trump regularly looks at unemployment and stock market numbers, complaining that they are hurting his presidency and reelection prospects, the people said.
Like others, they spoke on the condition of anonymity to reveal internal discussions.
Trump said at his daily briefing Thursday that the United States was at the "top of the hill" and added, "Hopefully, we're going to be opening up — you could call it opening — very, very, very, very soon, I hope."
Multiple Cabinet secretaries in recent days have publicly expressed hope that the various government orders directing residents to stay at home and forcing nonessential businesses to close could at least be partially eased next month.
Speaker of the House Nancy Pelosi, on the other hand, plans a more responsible course of action, and is urging Trump to do the same. "I would hope that the scientific community would weigh in and say, 'You can't do this, it is only going to make matters worse if you go out too soon," Pelosi told Politico of the possibility of Trump pushing to reopen things.
Fortunately, Surgeon General Jerome Adams acknowledged today most Americans will not be able to resume their normal lives on May 1, when the Trump administration's guidelines aimed at countering the spread of the coronavirus in the United States are set to expire.
In an interview on Fox News, Adams said the administration would be "data-driven" in determining when to reopen the country, and stressed that "now is the time for us to continue to lean into" the social-distancing recommendations first issued in mid-March and extended last week until the end of April.
"There are places around the country that have seen consistently low levels. And as we ramp up testing and can feel more confident that these places actually can do surveillance and can do public health follow-up, some places will be able to think about opening on May 1," Adams said.
"Most of the country will not, to be honest with you, but some will," he continued, "And that's how we'll reopen the country: place by place, bit by bit, based on the data."
This WaPo analysis about Trump and criticism is spot on:
President Trump has lambasted governors whom he views as insufficiently appreciative. He has denigrated — and even dismissed — inspectors general who dared to criticize him or his administration. And he has excoriated reporters who posed questions he did not like.

The coronavirus pandemic has crystallized several long-standing undercurrents of the president's governing ethos: a refusal to accept criticism, a seemingly insatiable need for praise — and an abiding mistrust of independent entities and individuals.

Those characteristics have had a pervasive effect on the administration's handling of the crisis, from Trump's suggestions that he might withhold aid from struggling state governments based on whether he is displeased with a governor to his repeated refusal to take responsibility for shortcomings in the laggard federal response.

John Feehery, a Republican strategist, said that he's never worked with a politician who enjoys criticism, but what's unusual about Trump "is that he's willing to counterprogram. He's willing to go on the offense on a continuous basis."

"He's saying the quiet part out loud," Feehery said.

On Monday, for instance, Trump was asked about a new report by Christi Grimm, the top official in the Department of Health and Human Services's Office of Inspector General, which found hospitals faced significant testing and medical supplies shortages. The president first demanded the inspector general's name and when she was appointed. He hinted that perhaps "politics" entered into her findings — though the Office of Inspector General is an independent entity specifically designed to ferret out waste, fraud and abuse in government, with minimal partisanship.

Informed that Grimm was appointed to her current role in January but is a career bureaucrat who previously served in the Obama administration, Trump lashed out at ABC News's Jonathan Karl, who had pressed him on the report's damning findings."You are a third-rate reporter and what you just said is a disgrace, okay?" Trump said, adding, "You will never make it."

David Axelrod, a former senior adviser to President Barack Obama, said the president expects nearly everyone around him to do his personal bidding, a view both "childish" and "dangerous." "Trump demands affirmation and does not tolerate oversight from the media, Congress, even inspectors general who he appointed," Axelrod said. "He wants to impose his version of events and discredit and disable any arbiters of fact who might disrupt his self-aggrandizing story line. That has been his instinct in business and politics, and we see it on full display in this crisis."

Throughout his term, Trump has frequently singled out other organizations and individuals whose goal is to be objective — from intelligence and federal law enforcement officials to public health experts and judges. His relationship with the Justice Department's top law enforcement official is one example. He faulted his first attorney general, Jeff Sessions, for not sufficiently protecting him against special counsel Robert S. Mueller III's Russia investigation, publicly tormenting him for months before finally firing him.

The media has also been an enduring target of Trump's ire. At nearly every coronavirus news conference in recent days, the president has clashed with reporters — at times seemingly intentionally — dubbing the press "fake news" and criticizing the tone and content of their questions. Especially amid the deadly pandemic, Trump has upbraided reporters, not just for tough questions but for failing to flatter and publicly praise him.

During his Saturday news conference, for instance, Trump began his remarks by explaining that every decision his administration makes is intended "to save lives." "It's therefore critical that certain media outlets stop spreading false rumors and creating fear and even panic with the public," he continued.

Without naming specific publications, Trump took umbrage with the cascade of stories that have documented his administration's mishandling of crucial aspects of the coronavirus response. "It's so bad for — for our country, so bad for the world," Trump concluded. "You ought to put it together for a little while, get this over with, and then go back to your fake news."

During the same news conference, he dismissed a question about when people should expect to receive their checks from the recently passed $2 trillion stimulus as being posed "in such a negative way" and described another as "always a nasty one from CNN."

The day before, during Friday's news conference, Trump also got into a testy back-and-forth when asked about comments in which his son-in-law and senior adviser, Jared Kushner, declared that the Strategic National Stockpile was for the federal government and not the states.

Trump called the question "a gotcha" before telling the reporter, "You ought to be ashamed." "Don't make it sound bad. Don't make it sound bad," the president continued, before concluding: "You just asked your question in a very nasty tone."
It goes on and it's well worth reading.
Trump seems to be more concerned about his "ratings" than anything else.
The Wall Street Journal always "forgets" to mention that the ratings for the White House Press Briefings are "through the roof" (Monday Night Football, Bachelor Finale, according to @nytimes) & is only way for me to escape the Fake News & get my views across. WSJ is Fake News!

— Donald J. Trump (@realDonaldTrump) April 9, 2020
In fact, the commander-in-chief has tweeted or retweeted 47 times as of this writing on Friday morning. His first tweet of the day was posted at 12:45 a.m.
Here's his latest:
Wow, Approval Rating in the Republican Party – 96%. Thank you!

— Donald J. Trump (@realDonaldTrump) April 10, 2020
The content of the president's Friday tweets give some insight into what's on his mind as the coronavirus pandemic ravages much of the country, reaching its expected peak in hard-hit states like New York — which just saw its third straight day of record deaths.
The binge kicked off with the president extending a thank you to one of his campaign aides for touting his numbers in a fresh Fox News poll. The poll showed a high in his overall approval: 49 percent approved of his performance, while 49 percent disapproved.
Thank you Erin! https://t.co/m8HRlK6VCY

— Donald J. Trump (@realDonaldTrump) April 10, 2020
From there, he retweeted two posts from First Lady Melania Trump on mental health during the pandemic and CDC guidelines on face coverings; linked to reports on Attorney General William Barr's criticism of the Russia investigation; chatted with Fox News analyst Gregg Jarrett about an airline bailout.
The president also reserved several tweets for bashing the media. He posted tweets criticizing CNN, the New York Times and ABC News.
Thank you Frank. It's ABC Fake News. They knew they were wrong when they went with this Hoax of a story! https://t.co/FHkRaW3BTi

— Donald J. Trump (@realDonaldTrump) April 10, 2020
Meanwhile, he also retweeted posts citing CNN's reporting, as well as several tweets from Wall Street Journal opinion writer Kimberly Strassel — just one day after calling her outlet "fake news."
The president also carried on his feud with the director of the World Health Organization with several pointed retweets. Tedros Adhanom Ghebreyesus, the director-general of WHO, has been accused of spreading misinformation from China regarding the early outbreak and spread of the coronavirus. That has prompted a war of words between Trump and Ghebreyesus this week, and the president on Friday linked to an op-ed from the WSJ editorial board calling to "Reform or defund the World Health Organization."
Trump's focus was also apparently on the stock market. He celebrated this week's market rally, casting it as a harbinger of a grander economic comeback once the country re-opens following the pandemic. He remains fixated on the anti-malaria drug hydrochloroquine, linking to a report that French President Emmanuel Macron is facing calls for wider use of the potential Covid-19 remedy.
This week, in only 4 days, we had the biggest Stock Market increase since 1974. We have a great chance for the really big bounce when the Invisible Enemy is gone!

— Donald J. Trump (@realDonaldTrump) April 10, 2020
Not to let his foes on the other side of the aisle get any rest, Trump packed in shots at House Speaker Nancy Pelosi and a series of shots at Joe Biden, the presumptive Democratic nominee who Trump will face in the 2020 general election.
A wild sample: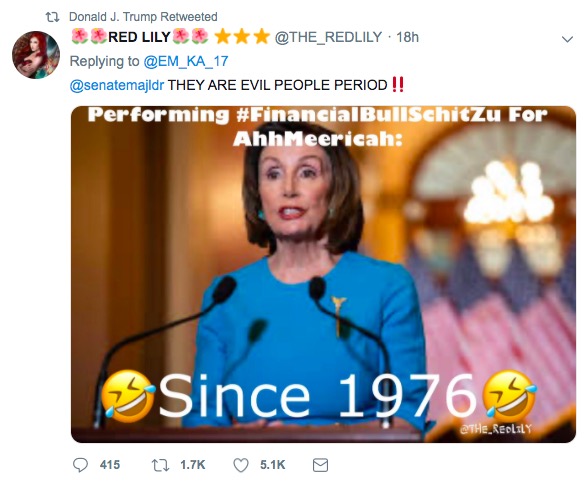 Because the T.V. Ratings for the White House News Conference's are the highest, the Opposition Party (Lamestream Media), the Radical Left, Do Nothing Democrats &, of course, the few remaining RINO'S, are doing everything in their power to disparage & end them. The People's Voice!

— Donald J. Trump (@realDonaldTrump) April 10, 2020
What a loon.
In other news, PM Boris Johnson is out of the ICU.
This drone footage captures NYC workers burying bodies in a mass grave on Hart Island, just off the coast of the Bronx. For over a century, the island has served as a potter's field for deceased with no known next of kin or families unable to pay for funerals. pic.twitter.com/wBVIGlX6aK

— NowThis (@nowthisnews) April 9, 2020
Here's an interesting phenomenon people have noticed — weird dreams:
The blog I Dream of Covid is a surrealist collection of dreams submitted by readers around the world in the midst of the coronavirus pandemic that, apparently, has had far-reaching effects into our collective subconscious. One San Francisco resident dreamed about walking around the city in Crocs and stepping on a needle contaminated with the coronavirus. Another person from Georgia recalled a dream where a doctor sprinkled salt on their thigh, tasted it with her fingers, and told them, "You are positive for Covid-19."

As people around the world hunker down in quarantine or otherwise adjust to the disease, many have anecdotally reported having weirder, more vivid dreams than usual — some related to the coronavirus, some about mundane life in the pre-pandemic world, and some just plain strange and inexplicable. Some people have said they're more restless, thereby getting less sleep than usual. (For those struggling to have a good night's rest or grappling with nightmares, the National Sleep Foundation recommends sticking to a consistent sleep schedule, or taking a short 30-minute nap.) Meanwhile, others have reported sleeping more, and consistent deep sleepers (like myself) rarely recall the dreams they have.

For sleep researchers, it's a ripe time to collect dream content for analysis. Some theorize that this onset of vivid imagery is a result of changing sleep schedules: Most people have vivid dreams during the REM (rapid eye movement) phase of sleep, and they tend to have longer and deeper REM cycles as the night progresses. If a person wakes up in the middle of a REM cycle, they're more likely to remember their dream content and the details involved.

Others attribute this vividness to the emotional and physical chaos many of us are experiencing. In previous research, scientists have determined that the limbic system — parts of the brain involved in behavioral and emotional responses — are activated during dreams that are highly bizarre or emotional. I spoke with Dylan Selterman, a social psychologist who runs the Dreams, Relationships, Emotions, Attraction, and Morality (DREAM) Lab at the University of Maryland, on how something like the Covid-19 outbreak could be affecting our sleep and our dreams.

***

There is not a grand unified theory of dreams among researchers, but there are several different theories with some validity to them. You've probably heard of the continuity theory of dreams, which hypothesizes that people dream about the stuff they're thinking about and doing while they're awake. If we feel some degree of stress about the pandemic, or about work or family, then it's normal for those types of themes to appear in our dream content.

Some researchers believe that dreams have a functional purpose to prepare us for difficult or challenging situations when we awake. Normally, what happens during a stress dream is that your mind appears to be working a problem out. There are also researchers who believe the inverse of that; for example, if you're experiencing difficulties in your current life and dream about them, that can predict your future mental health.

***

The biggest variables that influence dream vividness have to do with your regular sleep habits. If it's a very traumatic personal event, in clinical research, there's evidence of people experiencing nightmares. It could be that people are changing their sleep schedules, and if they get more sleep, they're likely to have more vivid dreams.

Another possibility is that people are thinking more about their dreams. Studies show that when you focus on your dreams more while you're awake, you tend to remember them better. This has been shown in diary studies, for example. If a person starts a dream diary for even just a few days, they start to recall more imagery from their dreams.
The mathematical models are not the only way to make sense of the progress of the pandemic. Raw numbers can tell us a lot too. This is my favorite "how are we doing" set of charts. They can display active cases, confirmed cases, new cases/day, deaths, deaths/day, and recovered, for countries or US states and territories, in linear or log scale, raw or normalized for population. The data come from the Johns Hopkins coronavirus project.
The US is ahead of most countries in confirmed cases (noon, April 8),
while New Mexico is in the lower half of the pack. I've chosen a raw plot and a normalized plot, to show you what's available.
Kevin Drum is posting numbers of deaths for seven European countries, the United States, and Canada. His source is the Johns Hopkins data. It's another way to get a quick status report. Here is the April 8 report.
I should say here that all of the data are wrong. All have limitations, all are subject to their own types of error. It's more important to look at trends than specific numbers.