A few days ago, I wrote about a product being offered on Amazon…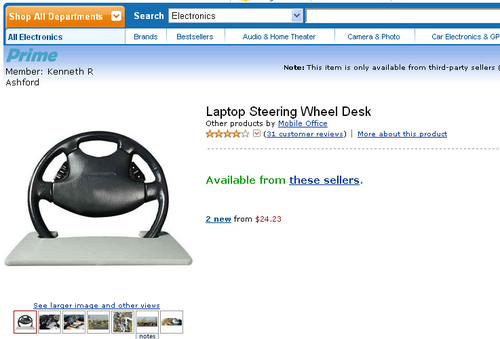 I checked back to the Amazon listing, and I must say, some of the "customer reviews" of this product are fantastic.  Here's a small sample:
150 of 158 people found the following review helpful:

5.0 out of 5 stars

Amazing! Holds my sheet music perfectly while driving., May 7, 2009

This has been a total lifesaver. It allows me to prop my sheet music against the wheel, allowing me to play the guitar with both hands while driving.

**********

 

92 of 96 people found the following review helpful:

5.0 out of 5 stars

The greatest thing ever invented!, October 26, 2009

Wow is this thing great! I use it as a "mini-bar" when the friends and I go out to the bars. I can quickly fix multiple shots of tequila for myself and the friends as we drive from one bar to the next. We also discovered that if you place a pillow on top of it and turn on the cruise control you can catch quick naps on the interstate. If you swerve to the left or right the rumble strips on the road wake you up in plenty of time before you get into trouble. I can now take longer trips without being tired!

Also, i am now dating a midget and she fits nicely on the steering wheel desk which allows us to experiment sexually while driving. This thing is like WD-40 or duct tape, it is a million and one uses!

**********

15 of 16 people found the following review helpful:

Great For Young Drivers!

,

November 4, 2009

My 16 year old daughter just got her license a few weeks ago. Since then, she's been going out for drives a lot after school. Unfortunately, all the time spent in the car for her has meant less time for homework. Her grades have noticeably slipped, but instead of taking away her car privileges, I bought this steering wheel desk. It's perfect for young drivers with heavy academic loads! Now she can work on her homework and still be out driving, improving her road skills and staying on top of her grades. I couldn't be prouder and would encourage all parents with new drivers to set their kids up with this super-portable work station!

 

12 of 14 people found the following review helpful:

What a Timesaver!!

,

November 4, 2009

Finally!! I don't know if anyone else has small children that they drive with, but this has been a lifesaver for me. I get so tired of pulling over whenever my infant son soils his diaper. Now, whenever I smell that familiar stench, I just turn around, unbuckle him from his car seat and change him right on this desk. It is the perfect size for a newborn! And believe me, this kid poops A LOT! I have saved so much time in my daily commute with this little treasure! Change the baby while changing lanes, then drop the soiled diapers out the window. It couldn't get any easier! Just don't forget to signal or you might get pulled over.